Renée Vassilos is The Nature Conservancy's Agriculture Innovation Director. She manages TNC's investments in early-stage agriculture technology companies that will scale regenerative agriculture production practices. Prior to joining The Nature Conservancy, Renée spent nearly a decade at John Deere, including several years based in Beijing, where she worked across corporate functions and geographies to build global market product strategies, design and manufacture equipment, and marketing and sales. Post-Deere, Renée led her consulting firm, Banyan Innovation Group, advising growth-stage agriculture technology start-ups and investors. Renée has a B.S. and M.S. in agricultural economics from the University of Illinois, Champaign-Urbana, and University of California, Davis respectively.
The SeedLinked Team
The next time you open the SeedLinked app you might be surprised. After lots of input from you all, we've completely revamped the trialing experience for mobile users. Now, you can now more easily find and do what you need to do when you need to do it!

The new app features you'll encounter include a completely re-vamped trialing experience, direct trait comparison variety views, the ability to review your own garden or farm-grown varieties, as well as options to add a 'check' or reference variety with your reviewed varieties. We're excited for the ways the 'check' variety will help you easily sort out your "tried and trues" from your "might be cool" variety choices. Do be sure to give it a try this season.
Download the new app and take a look around. If you only have a minute or two, check out the video walkthrough below! Even better, navigate directly to a specific feature you're interested in learning about by clicking on the linked timestamp references below the video.
Have ideas for how we can make our apps even better? Share your ideas with us at feedback@seedlinked.com.
Don't forget to download the SeedLinked App for your mobile device today!
Ever wish you had a little more support when choosing new varieties to grow in your garden or vegetable operation? How about more opportunities for connection and interaction with others during COVID? Our new Seed Collection Experience is just the ticket to finding connection and fun new seed options this year!
What is a Seed Collection Experience?
The Seed Collection Experience was born from our desire to offer a themed growing experience with guidance and curation from experts while providing a way for growers to come together to trial and experience a crop in community and grow exciting new varieties. To make the experience more fun, we've teamed up with some amazing food systems changemakers who have chosen the varieties in each collection based on their wide-ranging experience and preference. Many of the varieties in the Seed Collections have a personal connection to our curators – some of them long-time favorites – or have particularly interesting traits that our curators really wanted to share with participants. As a part of each Collection Experience, our partner curators will be offering their expertise to participants through a few live check-ins throughout the growing season. They'll also be interacting with participants through our platform during the growing season so anyone can ask questions and hopefully learn a thing or two along the way.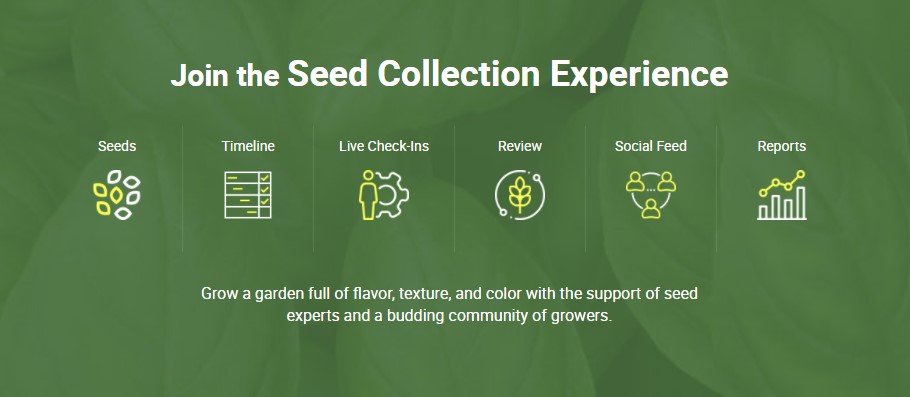 For instance, Lane Selman of the Culinary Breeding Network put together two exciting Collection Experiences: an Italian Roasting (Corno di Toro) Pepper collection, and a Leaf or Cutting Celery collection. Both Collections have close ties to the Culinary Breeding Network's early days. Corno di Toro peppers were the focus of one of the first variety trials Lane organized, and the varieties included in her collection also outshone the pack in her taste tests with professional chefs. On the other hand, the Cutting Celery collection began with Portland-area Thai chefs giving feedback that they couldn't find a local source of the cutting celery so key to flavoring some of their dishes. By partnering with those chefs and an array of farmers, Lane identified some winning varieties that showcase the diversity of this underappreciated herb. And now she wants to share them with you!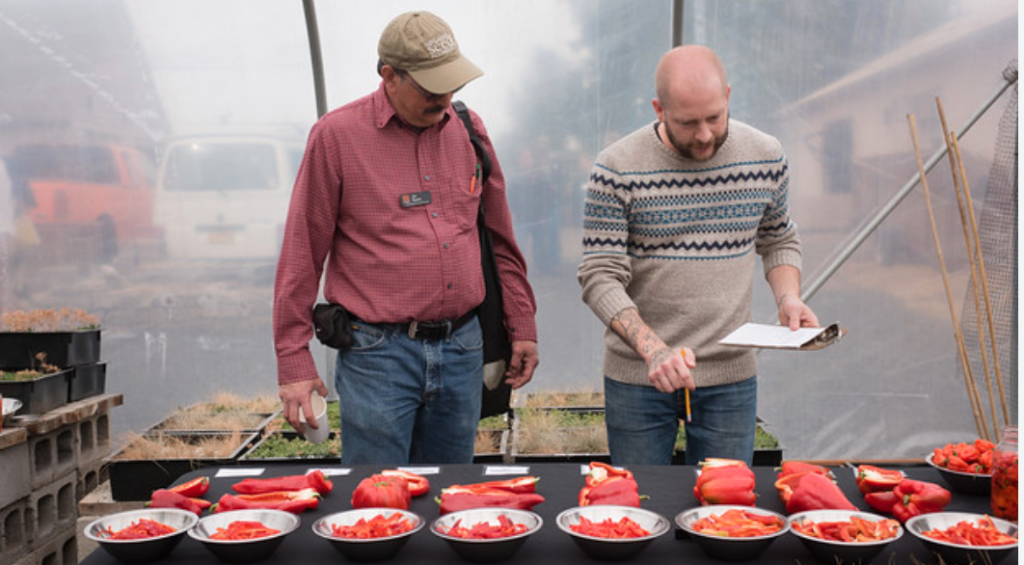 When you purchase a seed collection, you aren't just buying seed for your garden – you are getting a shared experience. Regardless of where you are in the country, or your personal level of growing expertise – this is a way to weave the story of your farm or garden into that of the bigger food and seed system. As a participant, you'll join hundreds – possibly thousands – of others across the country in a learning experience that also gives back to the broader seed community by providing valuable performance data through your participation and variety reviews. Using your SeedLinked account you'll track your progress from planting to harvest, rate the different varieties along the way, and share results as you go.
SeedLinked's platform is also launching a social feed for growers beginning in 2021, so participants can easily interact and communicate with each other, share updates, ask questions, chat with your curator, SeedLinked Team members, and other growers – and perhaps even brag about who was able to grow the biggest tomato along the way! All participants will also get to take part in three live garden check-ins hosted by your Collection's curator throughout the growing season. While every Collection will be slightly different, you can expect to have a live check-in starting with planting tips and tricks for your Collection's varieties, a midseason check-in to talk crop care, and a harvest time check-in to talk about culinary use and storage tips (and in the case of our Beginning Seed Saver collections, seed cleaning demos!).  
One thing that is different about our Seed Collection Experience is that seed won't be shipped right away as you'd expect when ordering seed. Collection participants will receive their seeds in February, just in time to get early crops started indoors in time for most growing seasons in North America. 
So Why the Seed Collections Experience?
We can learn so much by all growing and sharing results on the same varieties. We get incredible insight into regional performance variation and grower preferences, which then gets shared back to the growers so they can make more informed decisions next season. That data also helps to inform the choices of seed companies, seeing what growers love and what they struggle with in various parts of the country. Take for instance the beginning seed saving collections curated by the Organic Seed Alliance. There is almost no public information about the results of seed growing in different regions of the country, to help small and medium seed companies understand where growers can successfully produce quality seed of different crops. While you might learn a new seed saving skill with this collection, a regional seed company may unlock a whole new region of potential seed producers.
The Seed Collections Experience is an opportunity to receive seed of some unique and exciting varieties, learn about our platform that allows you to collect, track and share growing results, and communicate with other growers and the curator throughout the process. Best of all, everyone is contributing to common goals, helping each other along the way and providing information for the whole seed system to make more informed decisions in the future. We are firm believers that a rising tide lifts all boats!
Who's Involved, and What Collections?
Partnership and collaboration are at the heart of SeedLinked's mission, and we are committed to meeting the needs of our partner food systems changemakers and supporting the work that they do. Your purchase of a Seed Collection Experience will help SeedLinked cover our cost to handle logistics and provide the platform and will also provide support for our curator changemakers. They do so much work to educate growers, and we want to be sure their work in the garden and efforts to improve our seed systems are fully appreciated. Some of our curators have also chosen to support other important initiatives happening in our food system by donating ten percent of Collections profits. Check out the individual Collection pages to learn more about these projects.
We've got an awesome lineup of partner curators with varied roles in the food system. We encourage you to view all the Collections to get more details HERE. If you don't have time to check them out individually right now, here's a sneak peek:
Lane Selman, of the Culinary Breeding Network, is curating an Italian Roasting (Corno di Toro) Pepper collection, and a Cutting Celery collection.
Craig LeHoullier, of the Dwarf Tomato Breeding Project and all-around tomato-extraordinaire, curated collections of his favorite Slicing Tomatoes, Paste Tomatoes, and Cherry Tomatoes, highlighting some of the varieties bred by the volunteers of the Dwarf Tomato Breeding Project alongside old favorite heirlooms, and some interesting finds from his own garden.
Meg Cowden, of Seed to Fork, took two different angles – curating a collection of top varieties of cabbage for any season, and a companion planting seed collection featuring marigolds alongside culinary spice peppers meant not just for fresh eating, but also for spices like paprika or sauces.
Nate Kleinman, of the Experimental Farm Network, is highlighting the crop diversity of the future with a collection that explores diverse and underappreciated perennial vegetables, as well as a second collection focused specifically on highlighting some of the exciting kale diversity available to growers – including a perennial kale!
Bjorn Bergman, an avid gardener, SeedLinked Co-Founder, and long-time participant in Seed Savers Exchange's Community Science ADAPT Program is bringing his love of fresh garden salads to the table with a garden lettuce collection.  
Organic Seed Alliance chose three different crops to offer beginning seed saver experiences: sunflower, dry beans, and cherry tomatoes. Not only will participants get to experience the beauty and deliciousness of those crops, but they'll also be empowered to learn new skills to save their own seeds for friends, family, and future seasons.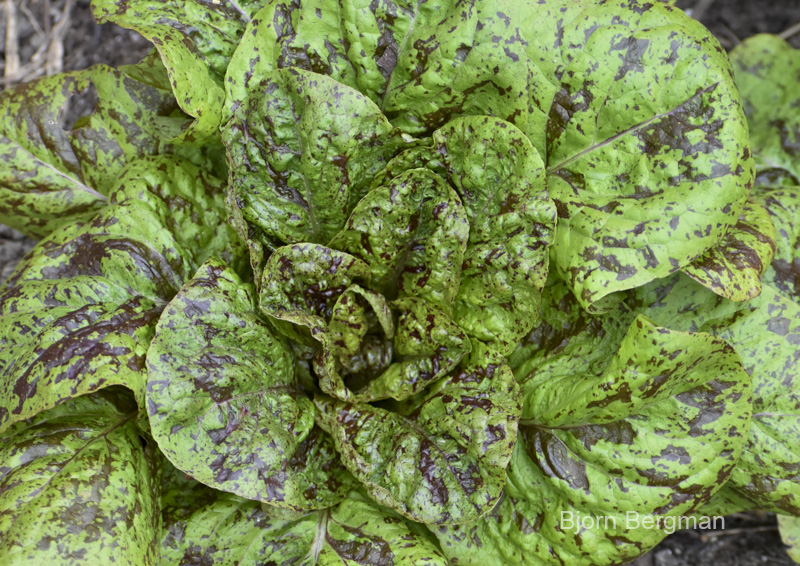 The Seed Collections Experience was born from our desire to offer a themed growing experience with guidance from curator experts while also making collaborative trialing more accessible and fun. Seed Collections participants join a growing experience that includes seed, support throughout the growing season from their collection's curator, and the opportunity to connect with growers to trial and experience a crop in community all while growing new varieties in the comfort of a home garden or farm.