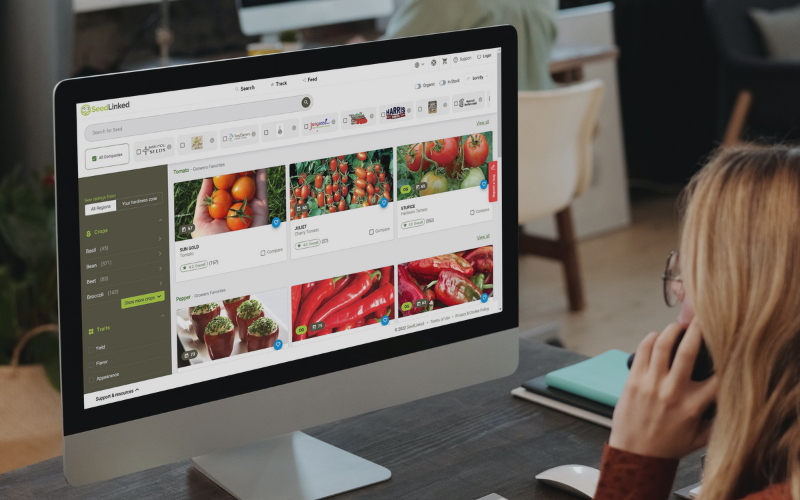 Sell Your Seeds on SeedLinked
If you are a seed producer and/or distributor you can sell your seeds on the SeedLinked Marketplace, a one-stop-shop for growers looking to source diverse offerings from seed companies of all types, whether it is heirlooms from a local company or workhorse hybrids from national distributors. The Marketplace is available on our website and app (on Android and iPhone/iPad). You can become a part of our platform pushing for a more transparent and resilient seed system by selling your seeds on SeedLinked.
Growers want to be able to buy from many seed companies with one cart, and we want every company's offering to be part of what they can choose from on the data-driven SeedLinked Marketplace. SeedLinked is where growers can filter by performance for different traits, market classes, and hardiness zones. This isn't about comparing prices, it's about growers finding the best seed for their needs and growing conditions.
How does the SeedLinked Marketplace work for seed sellers?
We make it easy for you to list and sell your seeds on SeedLinked, and if you already have an e-commerce portal there is no further action you will have to take!
SeedLinked checks your site's availability and pricing every night during low site traffic hours.
Your products are synced up to the SeedLinked database so that they are linked to any data we may have for those varieties.
Your seed company becomes one of the seller options for varieties you carry on that variety profile page.
Growers submit orders through the SeedLinked site, paying the same amount, and choosing whether or not to sign up for supplier newsletters (i.e. your email list!) as they check out.
SeedLinked submits an order to your site for any of the varieties for which they chose your company as the seller, with the grower's shipping information and SeedLinked payment information. (Note that SeedLinked may run our own promotions with limited-term discounts or reduced shipping on our site, but you will still receive your listed price and shipping amount for that seed at the time of its purchase).
You fulfill the order like any other submitted to your website.
Happy growers discover (or are reminded) of a diversity of seed companies to purchase from, and you have a new potential customer.
Selling on SeedLinked Marketplace is best paired with SeedLinked Collaborative Variety Trialing Services
The SeedLinked Marketplace is all about connecting growers with performance data to make better seed choices. SeedLinked Collaborative Variety Trialing Serivces allow your varieties to be trialed by thousands of growers while gathering insightful performance data. As your products build up data you can refine your marketing with unprecedented insight into regional performance on a trait-by-trait basis. More data also makes your varieties easier to find when growers are searching on SeedLinked Marketplace. No longer do you need to struggle with cold launches and difficulty driving new product adoption, now that growers can see how your products perform in their neighborhood.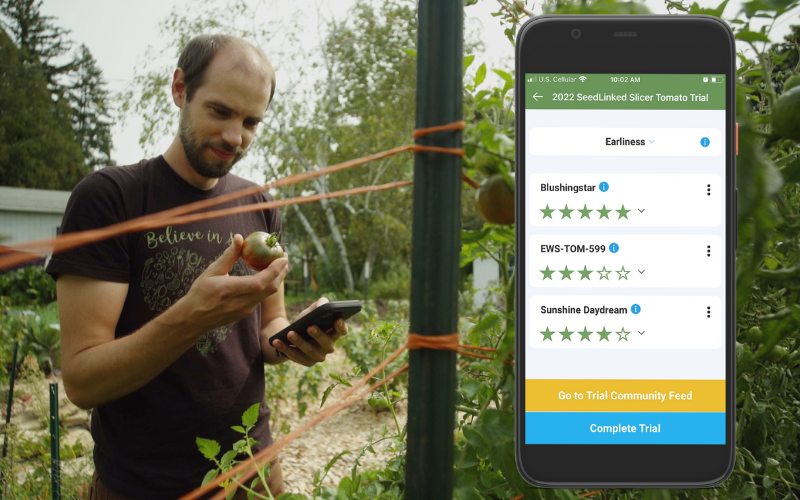 SeedLinked Collaborative Variety Trialing Services are an affordable way to reduce cost in your trialing program while drastically improving the geographic granularity of data. Our methods have tight correlations to standard research station trials and offer incredible year-over-year and on-farm reliability – all while coming at a lower cost and having the added benefit of increasing grower awareness of your products.