In 2022, we organized a slicer tomato collaborative variety trial with the goal of having farmers and gardeners across North America grow well-known varieties side-by-side with newly released hybrid and open-pollinated varieties and rate them for a variety of traits on the SeedLinked platform. At the conclusion of the growing season, our aim was to freely share the results of our variety trial on our Seed Marketplace and in this blog with growers, seed companies, and anyone else who is interested. Thank you for your interest and taking a look!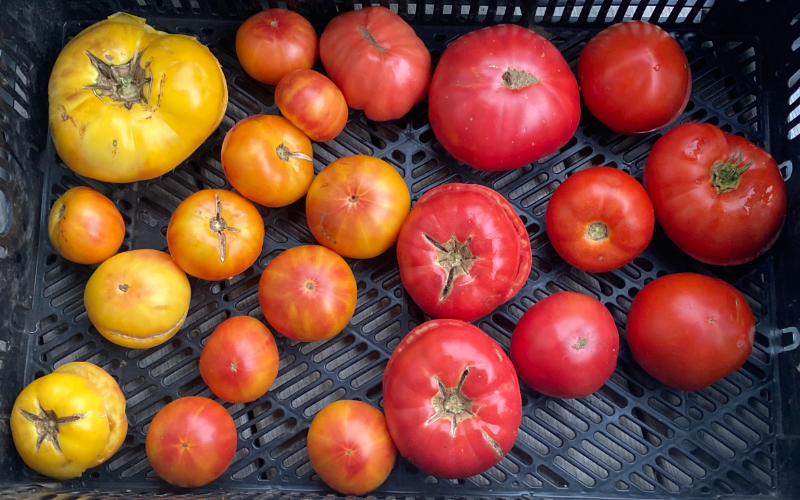 Trial Methods
In January 2022, the SeedLinked team searched through seed catalogs for standard open-pollinated and hybrid slicer tomato varieties. Additionally, we reached out to tomato breeders and seed companies in the United States to see if they had any newly bred and/or released open-pollinated and hybrid varieties to add to the trial to see what performed best. We had a great response and had the following businesses share varieties with us: A.P. Whaley, Artisan Seeds, Earthworks Seed, Johnny's Selected Seeds, KC Tomato, PanAmerican Seeds, Vitalis Organic Seeds, Siskiyou Seeds, and Wild Mountain Seeds. Thank you to the companies for their generosity and willingness to participate!
Varieties in the 2022 SeedLinked Slicer Tomato Collaborative Variety Trial were: Benevento, Big Beef Plus, BlushingStar, DarkStar, EWS-TOM-599, EWS-TOM-600, Mountain Spirit Bi-color Hybrid Swarm, Siskyou Slicer, Sunshine Daydream, VIT101, 22PinkBeefsteak, 9L08, and 9L48. We used Big Beef Plus Tomato as our check variety in the trial as it is a commonly grown hybrid slicer tomato. Additionally, the varieties with numbers in their names are not currently commercially available, although many might be in the next few years.
Also in January 2022, we invited farmers and gardeners across the United States to join our trial by reaching out to those who have successfully been part of our trials in the past as well as through an open link on our website. We had 127 growers join the slicer tomato trial (see map below). The trial was a sub-set trial, where each participant was randomly assigned three varieties from the larger set of 13 varieties to grow side-by-side and rate them on the SeedLinked website or App (Android or iPhone/iPad).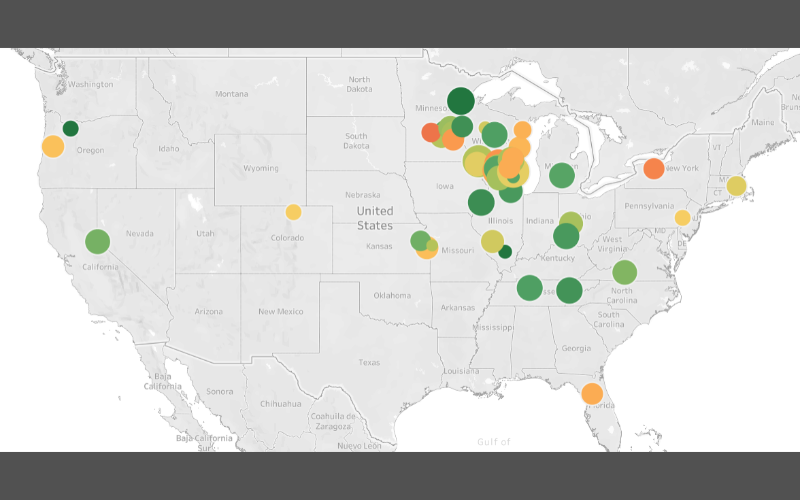 In the first week of March 2022, we mailed tomato seeds and planting stakes to trial participants and made the trial active on SeedLinked so growers could start entering their reviews.
During the 2022 growing season, trial participants grew the varieties as they normally would in their garden or on their farm and were asked to log in to SeedLinked on the web and/or app and input the following data:
Dates: planting, transplanting, first harvest, and last harvest dates
Traits: rate each variety on a scale of 1 to 5 stars for the following traits: appearance, cracking resistance, disease resistance, earliness, flavor, marketability, storage, vigor, yield, and overall
Comments: provide general and trait-based written comments
Images: share photos of the varieties growing and harvested fruit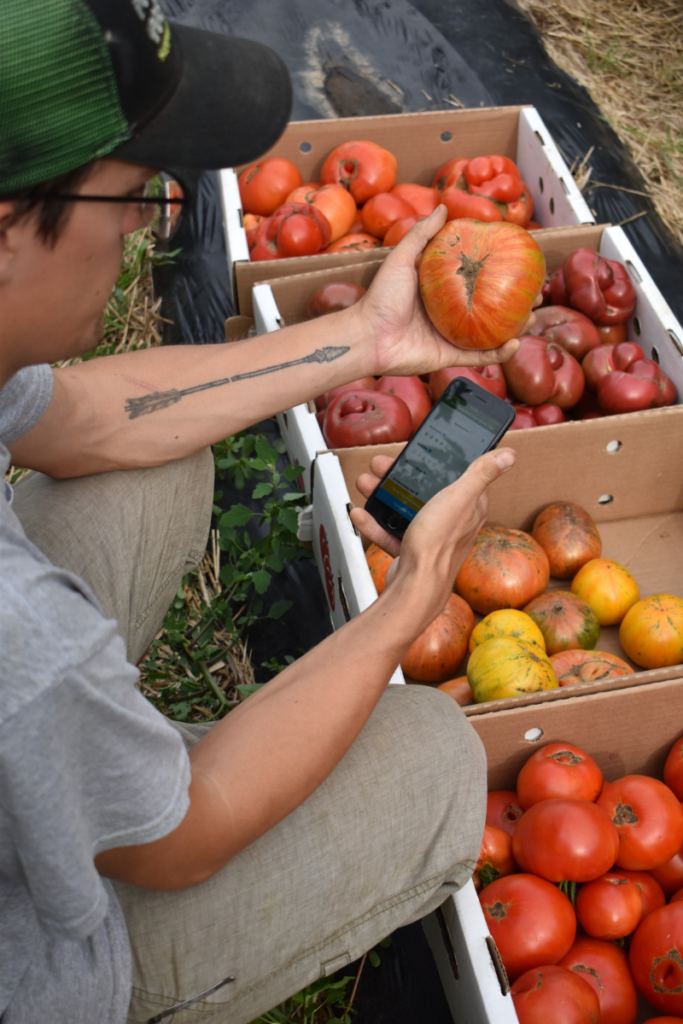 2022 SeedLinked Slicer Tomato Trial Results
Once the trial was closed for entering data in December 2022, results were automatically calculated by the SeedLinked platform and shared with participants. Of the 127 growers that accepted the trial and received seeds, 70 grew out the varieties and shared their reviews on SeedLinked, which is an exceptional rate of participation for a collaborative variety trial. You can view the interactive slicer tomato trial results HERE.
Note: We recommend logging into your existing SeedLinked account or creating an account when viewing the results. This gives you the opportunity to filter results by hardiness zone to zero in on varieties that performed well in your location. Additionally, we recommend checking out our blog 'Digging into SeedLinked Trial Results' to learn how to filter and view trial results.
Overall Results
When all traits were taken into account and averaged, growers found that 9L08, 9L48, and BlushingStar performed the best overall (all averaged 4 out of 5 stars).
Results by Trait: Yield
The highest-rated slicer tomatoes for yield were Mountain Spirit Bi-color Hybrid Swarm (4.1 stars), 9L48 (3.9 stars), and 9L08 (3.8 stars).
Results by Trait: Flavor
The highest-rated for flavor (a.k.a. best tasting), were BlushingStar (4.4 stars), Mountain Spirit Bi-color Hybrid Swarm (4.3 stars), and 9L08 (4.3 stars).
Results by Trait: Disease Resistance
Trial participants found the most disease-resistant slicer tomato varieties were: Mountain Spirit Bi-color Hybrid Swarm (4.3 stars), 9L48 (4.2 stars), and EWS-TOM-599 (4.1 stars).
If you would like to dig into the result by trait and filter them by growing zone, check out the interactive trial results on SeedLinked HERE.
Appreciations
Thank you to all of the gardeners and farmers who participated in SeedLinked Slicer Tomato Trial in 2022. With your help, we are creating more open-source data for how vegetable varieties perform across the United States. Additionally, we would like to thank all the seed companies that shared seeds with us for the trials. Thanks for being open to having your varieties tested by a wider audience of growers around the United States.
Published 12/9/22