Alright! You've finished entering reviews, adding photos and comments, and have completed your collaborative variety trial. Now you're done being on SeedLinked until the next growing season. Not so quick! There are many benefits to staying engaged on SeedLinked. The primary reason is having access to collaborative variety trial results to help better inform your seed choices for the next growing season.
Did you know that you can access aggregated variety trial results immediately after you complete a trial on the web platform or app?
Trial results can help you pick what varieties to grow in the future. When it comes to picking a variety to grow, what is most important to you? Flavor? Disease resistance? Yield? Seeing photos of the variety growing? Reading comments from other growers? The beauty of SeedLinked trial results is that you can focus on what is important to you when determining what varieties to grow next year.
Ways you can view Trial Results on SeedLinked:

Want to dive into variety trial results? Here is a step-by-step guide on how to use trial results to the fullest on our web platform and apps.
Trial Results on the Web Platform
Let's start with accessing collaborative variety trial results on the SeedLinked web platform. Log in to your account and navigate to the 'Track' tab at the top of the page and click on 'Results' on the grey sidebar on the left. You can sort your trial results by crop type or by year. Find a trial you'd like to view the results for and click on the blue 'Results' button to the right of the trial.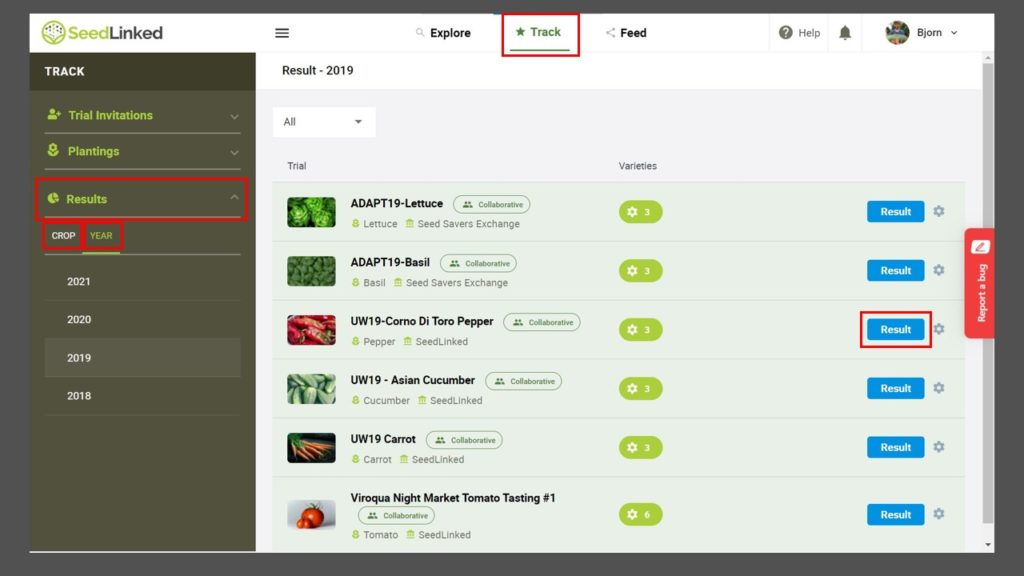 Congratulations! You are on the results page for a trial. Now, let's take a look around at the ways you view results. First, you can select traits that you'd like to see ratings for. For example, if you are only interested in 'disease resistance' and 'earliness', you can select those traits and view only those aggregated ratings. Click on 'Select Traits,' select your traits, and hit 'Save.'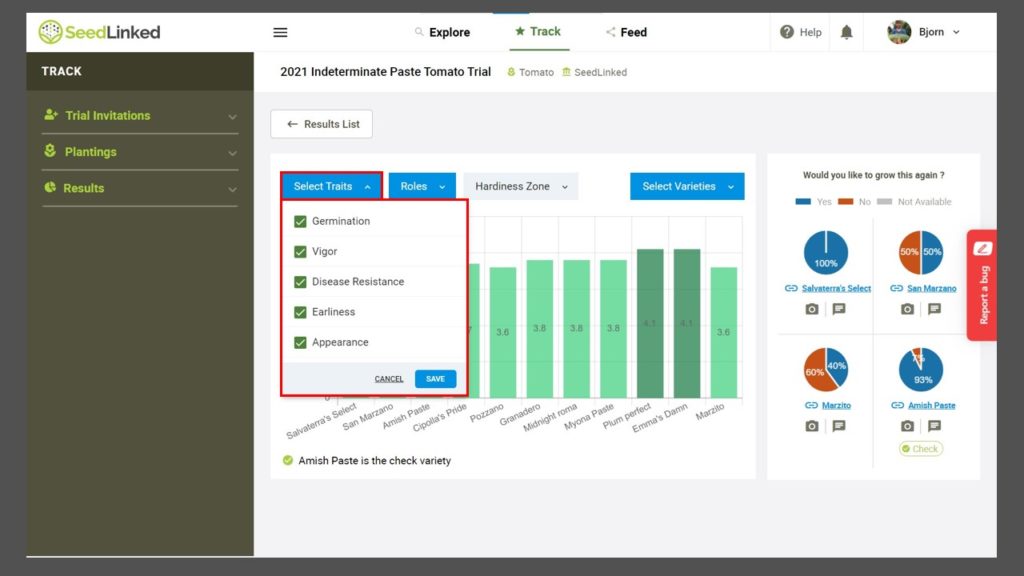 Next, under the 'Roles' tab select who you'd like to see ratings from: gardeners, farmers, and/or trial managers and click 'Save.'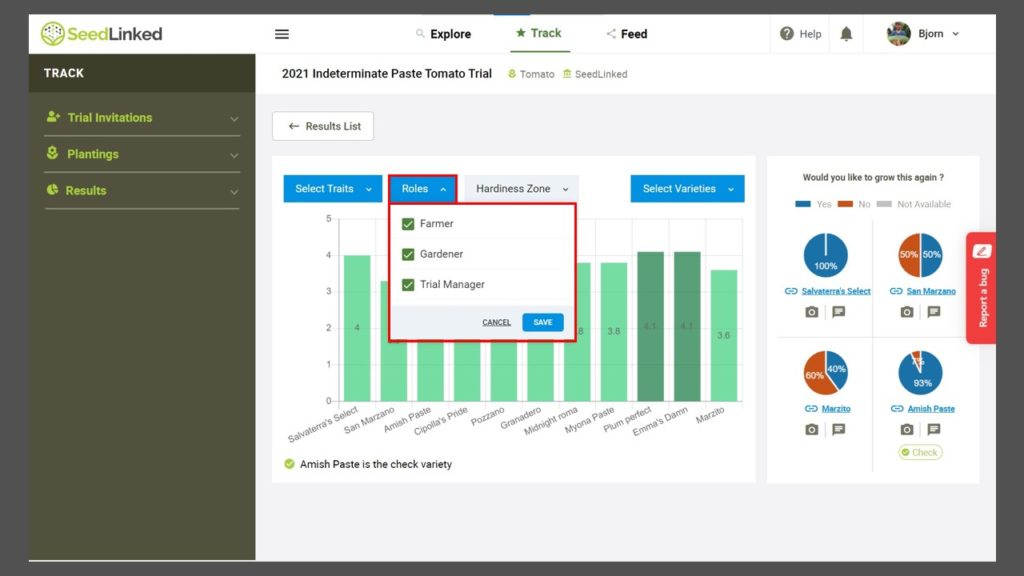 Then you can select if you'd like to see results from everyone in the trial or only those reviewers in your hardiness zone. Click on 'Hardiness Zone' and either select 'All' or 'My Hardiness Zone.'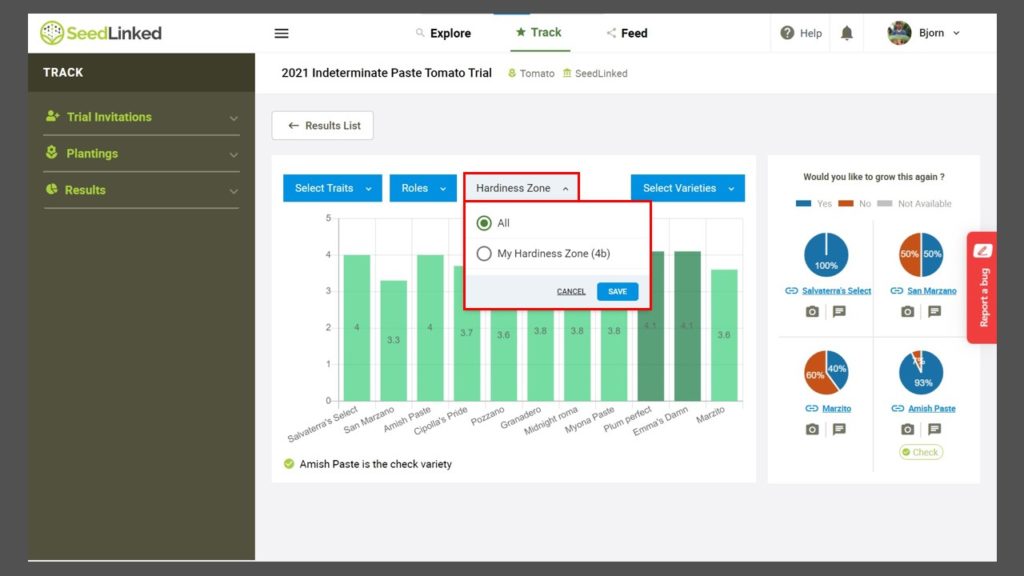 If you only want to see results for two or three varieties that were in the trial, you can remove varieties from the results by clicking 'Select Varieties' and choosing the varieties you'd like to see reviews for.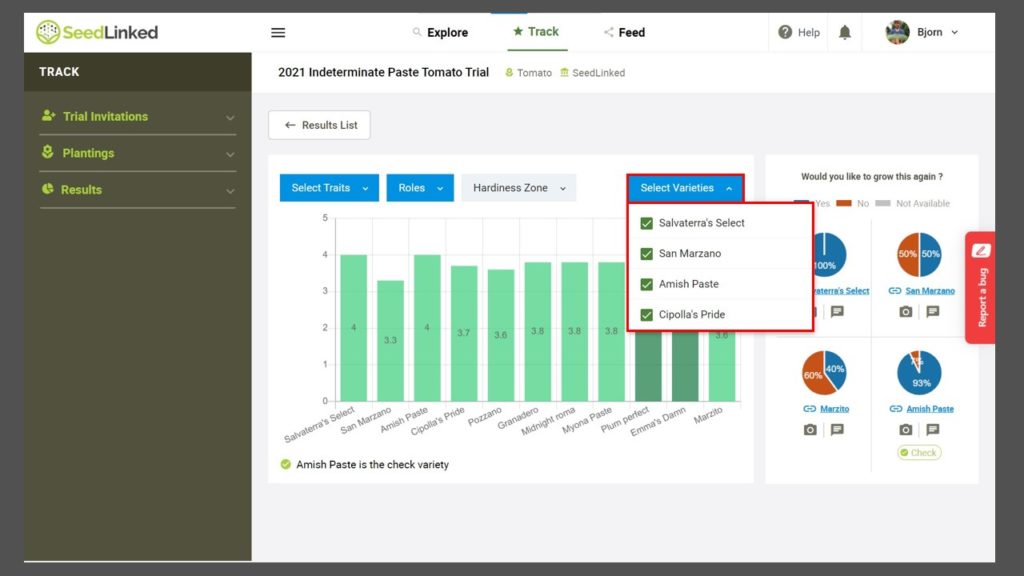 When you completed your trial, you filled in a 'Would you like to grow this again? Survey.' You can view the results of that survey on the right side of the page. Be sure to scroll down if there are more than four varieties!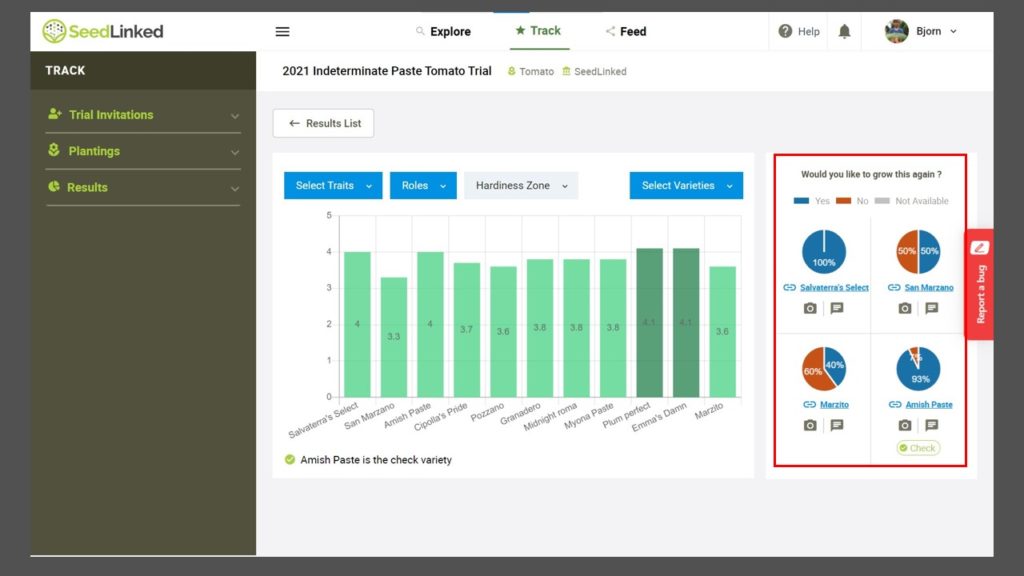 Lastly, if you want to look at the photos and comments reviewers shared about each variety, you can click on the camera or comment icon below the variety name. Be sure to like images and comments that are helpful to you! Ones with more likes rise to the top of the list and be featured on our Seed Search.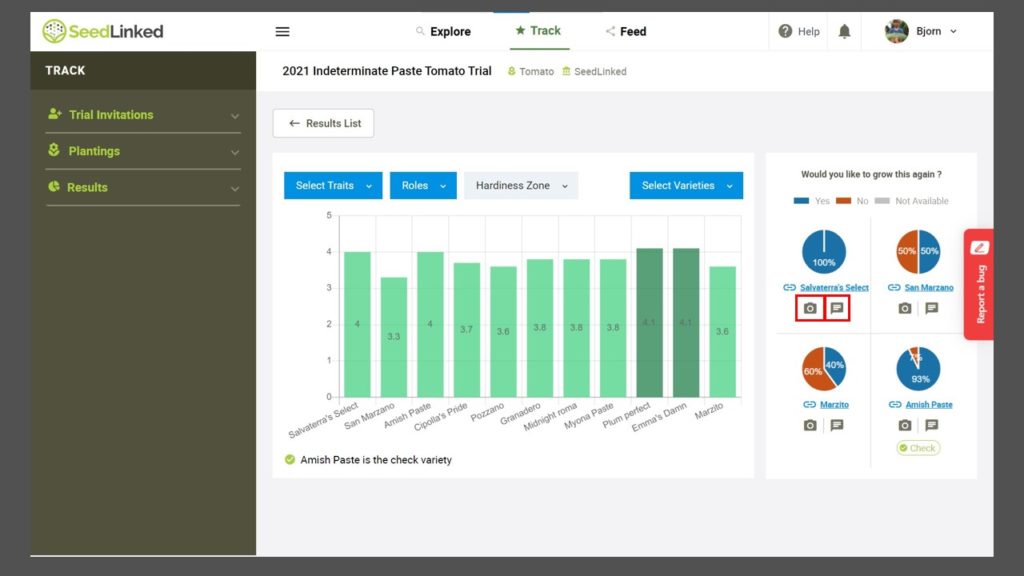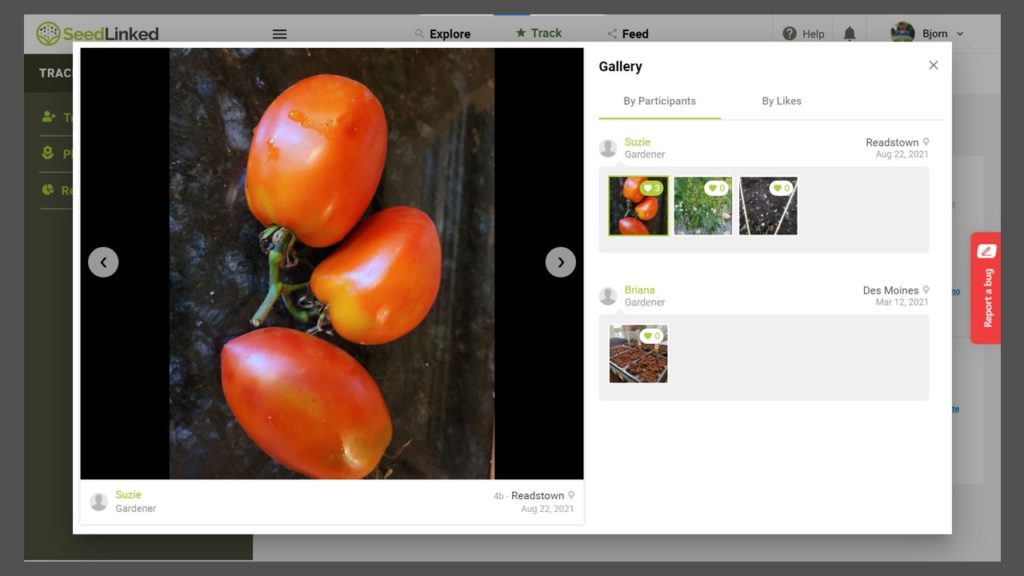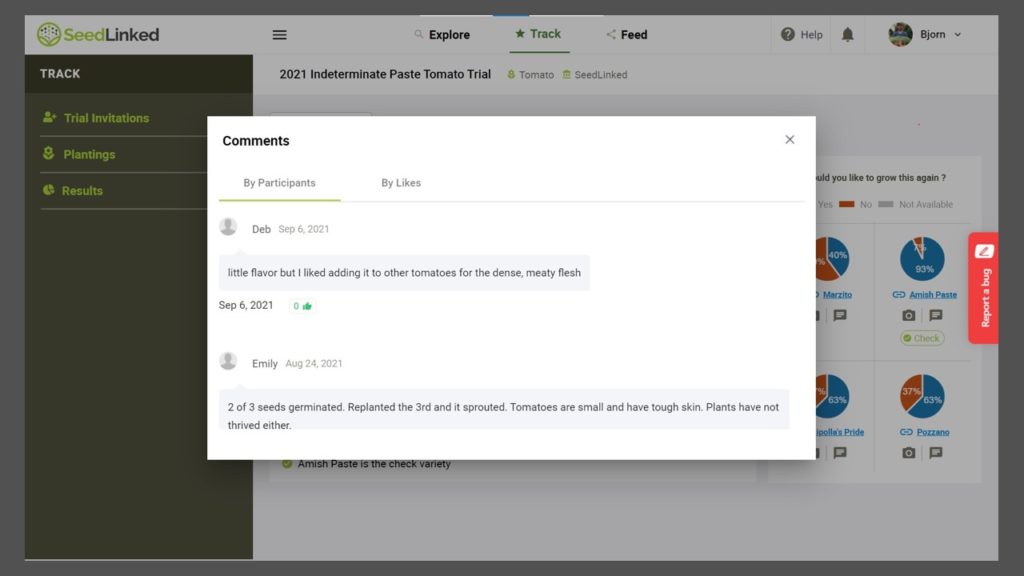 If you decide that you want to purchase seeds of a particular variety that was in a trial, you can click on the variety name in the 'Would like to grow this again?' survey results and this will take you to the SeedLinked Marketplace variety page where you can purchase seeds for that variety if they are available.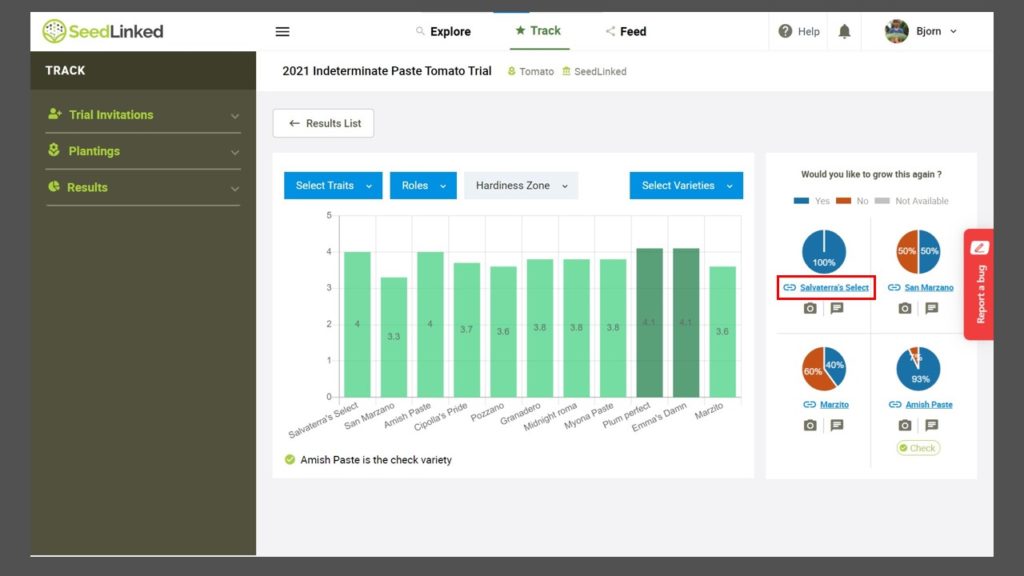 Trial Results on the App
Next, let's shift gears and talk about viewing results on the SeedLinked App. First of all, be sure to download the app on your phone or tablet (Link to download for Android devices or iPhone/iPad).
Open the app, log in to your SeedLinked account, and navigate to the 'Track' tab at the bottom center of the screen. Click on 'Results' in the top right. On the Results page you can scroll down through all the results you have access to or you can filter them by crop or by year using the filters. Once you find the trial that you like to view results for, click on the trial.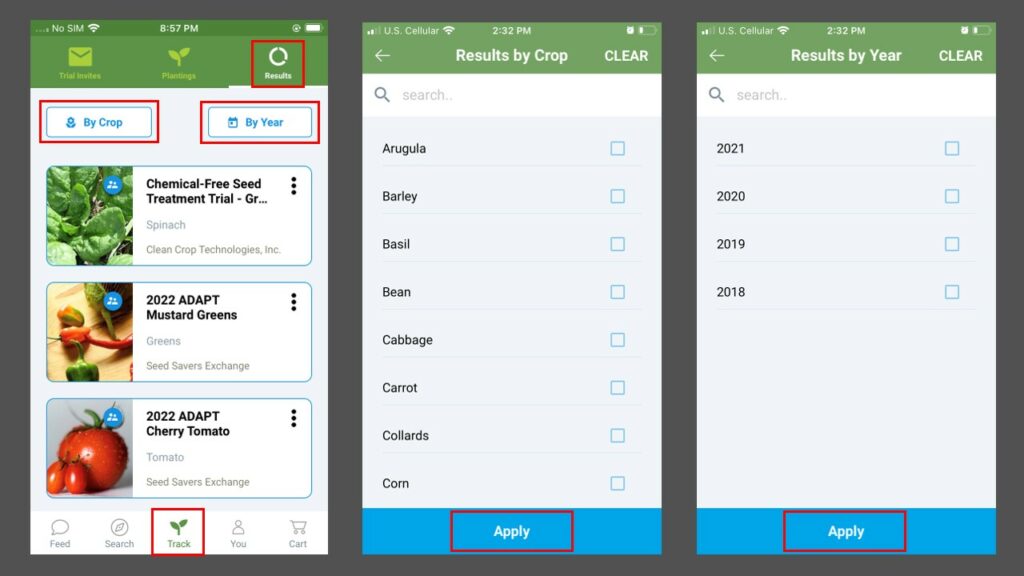 Welcome to trial results on the app! Now it's time to dig into your results. You can toggle between seeing results from all trial participants or just those in your hardiness zone by toggling between 'All Reviews' and 'Your Zone' at the bottom of the screen. If there is a specific trait that is most important to you like yield, disease resistance, or flavor, you can filter the results by those traits by clicking on 'Select Traits' and selecting the traits you'd like to view and clicking 'Apply.'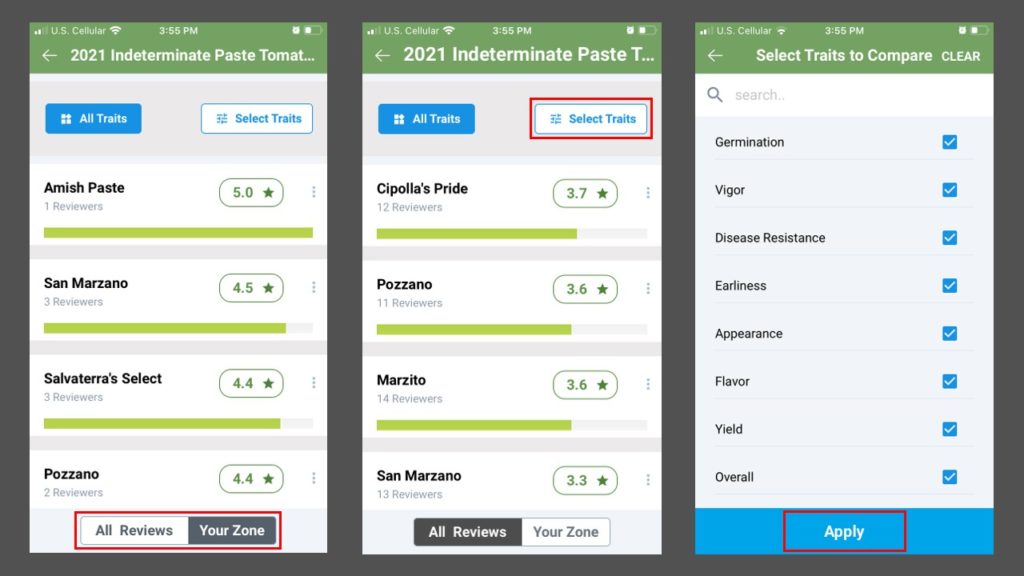 Next, you can access the graphs for the 'Would you like to grow this again? survey' that each trial participant took part in when they completed their trial. Click on the three dots to the right of a variety rating and click on the 'Grow Again?' icon. On this screen you can toggle between varieties by using the arrows next to the variety name.
Last, you can access photos and comments submitted by trial participants by clicking on the three dots to the right of a variety rating and clicking on either the 'Images' or 'Comments' icon to view them for each variety. You can toggle between variety images/comments using the arrows next to the variety name. Don't forget to like images/comments that you feel are most helpful! Images/comments with the most 'likes' rise to the top of the list in results and on the Seed Marketplace.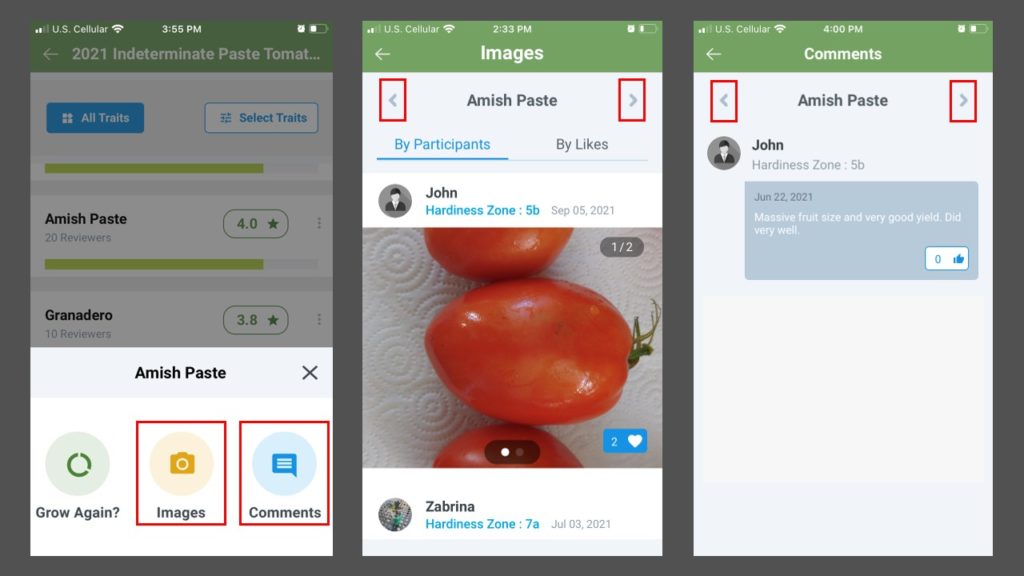 Thanks for learning all about the SeedLinked Trial Results! We encourage you to log in to your profile on the web or app and view the results for a collaborative variety trial you participated in on SeedLinked. We hope that the results feature gives you a way to find the right variety for you to grow next season.
Additionally, the results from over 350 collaborative variety trials run on the SeedLinked platform since 2018 are the foundation of our Seed Marketplace variety reviews. If you want to see overall ratings for varieties across geography, beyond your trial, search for and purchase seed on our Seed Marketplace.
If you have any ideas for how to visualize collaborative trial results, please share them with us at feedback@seedlinked.com We would love to hear from you!
Updated 11/16/22