It's time to sign up for 2022 Collaborative Trials on SeedLinked. We invite you to be part of our mission to make the seed system more collaborative and transparent by signing up to be part of trials on SeedLinked in 2022! Participating in trials is a great way to:
Grow new and exciting varieties before they are released commercially
To help provide vital feedback on how the varieties perform on the SeedLinked platform
Participate in an open discussion on the trial community feed
Get instant access to trial results when you submit your feedback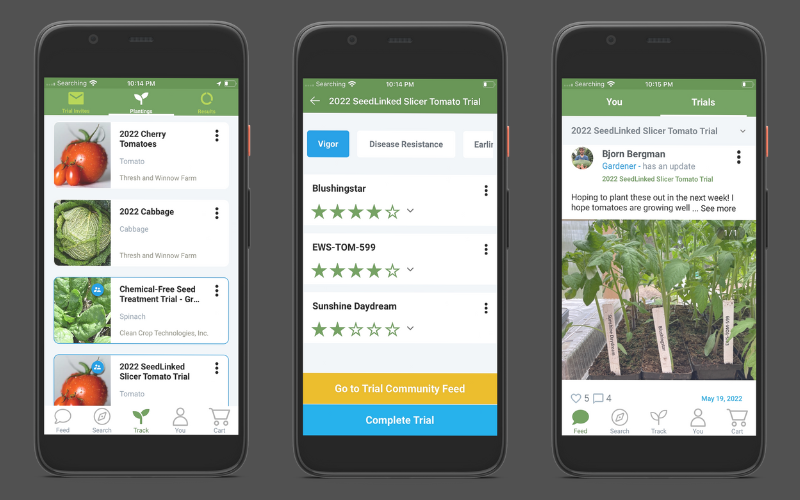 What am I committing to when I sign up to be part of a trial? The trial manager will send you seeds and will ask you to grow out each variety and submit your reviews, comments, and photos on each variety on the SeedLinked website and/or app during the growing season. The manager for each trial will communicate more specific details about participating in each individual trial.
Check out what trials are available below. Note that this page will be updated frequently with new trials, so check back often.
---
2022 Albert Lea Seed Annual Clover Winter Hardiness Trial – Registration Closed
This cover crop trial, put on by Albert Lea Seed, is focused on testing the germination, vigor, and winter hardiness of four varieties of clover: generic 'Variety Not Stated' (VNS) versions of crimson and berseem clover, 'Fixation' balansa clover, and 'Frosty' berseem clover. Seed will be shipped in July, and participants are asked to plant a 4′ x 6′ plot of each clover two months before their average first freeze date (see the 'Historical Date of First Freeze' map). Winter killed clovers (which these varieties usually are) can be a great way to prep a plot for next year's spring or summer crops, but some of these varieties might survive and you will be asked to collect data into spring 2023, so keep that in mind when choosing a location for this trial. Learn more and sign up for this trial below.
---
2022 Clean Crop Tech Chemical-Free Seed Treatment Spinach Trial – Registration Closed
Join this trial at the cutting edge of chemical-free seed treatments. Clean Crop Tech is working on seed treatment options to improve germination rates and time, vigor, and resilience to plant stress. We invite you to be a part of testing the next generation of sustainable seed treatment!* This trial will include one check variety (Space (F1) Spinach) and three variations of CCT's treatment process on the same variety. Germination may differ by just a couple days – but even that makes a difference for baby green production – so keep a close eye on this quick trial! Seed will be shipped late April, with a target planting date of mid-late May (not before, since bolting tolerance is one of the traits of interest).

*Please note: CleanCropTech's treatment is not organically certified! However, it does not use any radiation or harmful chemicals. The treatment is an electrical process, chemical-free, and leaves no residues, functioning by special scarification of the surface of the seed. Increasing surface area helps seeds absorb water and thus germinate more quickly and be more resilient to stress. If you are a certified organic grower please check with your certifier or plant the trial in an area outside of your certified growing zones. Although we are hopeful this will eventually be an innovative seed treatment option available to organic growers (this trial is part of the final stages of R&D), the process has not been reviewed by OMRI, and SeedLinked and CCT are not responsible for any issues with organic certification.
---
2022 Seed to Kitchen Collaborative Trials Sign Up – Registration Closed
Seed to Kitchen Collaborative will send each grower seeds, planting stakes, a planting map, and datasheets. They will be sent by the end of February. Growers manage the trial as they would manage their normal crop. Trials are limited to growers in the Midwest. Learn more about the trials on the SKC trials website.
Seed to Kitchen Collaborative (SKC) trials this year include four different tomato breeding trials, a pepper breeding trial and potato trials with breeding lines from the University of Wisconsin program.
SKC Variety Trials:
SKC Breeding Trials:
---
2022 Midwest Broccoli Trial Sign Up – Registration Closed
Are you a farmer or gardener located in the upper midwest (Minnesota, Wisconsin, Michigan, North Dakota, and South Dakota)? Do you like growing broccoli? Are you interested in being part of research to identify varieties that are more resistant to black rot and Alternaria? If you answered yes to all those questions, sign up to be part of our 2022 trials! Trials are a collaboration of SeedLinked and the Minnesota Fruit and Vegetable Growers Association with funding from the Minnesota Department of Agriculture's Specialty Crop Block Grant.
---
2022 SeedLinked Slicer Tomato Trial – Registration Closed
Do you love tomatoes? Join us for this collaborative trial!
From mouth-watering BLTs to a picturesque case of blemish-free tomatoes, sometimes slicers and beefsteaks are just what you need. This trial features 12 new slicer/beefsteak tomato varieties from some of the industry's most innovative breeders. Participating breeders include: Artisan Seeds, Earthworks Seed, Johnny's Selected Seeds, PanAmerican Seeds, Vitalis Organic Seeds, Siskiyou Seeds, and Wild Mountain Seeds. If you join the trial, you'll receive a subset of 3 varieties to compare, and 10 seeds of each variety. Seeds will be shipped out the first week of March 2022. You'll be asked to plant at least 3 plants per variety in the same setting. The plant breeders have a special interest in comparing open field/garden and hoop house/caterpillar tunnel environments. Be sure to fill out the management info at the end of the trial season! Open to USA growers only.
---
2022 Seed Savers Exchange ADAPT Trials Sign Up – Registration Closed
The Community Science ADAPT program is a fun and exciting way to get involved in Seed Savers Exchange's (SSE) mission of preserving and sharing our food crop heritage. Participants in this program trial varieties from the SSE seed bank and send them feedback on their performance. This information helps SSE better understand the adaptability of these varieties to different environments and guides their selection process for new introductions into their seed catalog.
In early January each year, SSE releases details on the collaborative trials they're offering for the upcoming season. Participants select the crop(s) they want to trial and are then randomly assigned three varieties. In the first week of March, SSE will send you your seeds, plant labels, a datasheet, and instructions for submitting your data. They ask that you grow the three varieties side-by-side under the same conditions. They do not require a minimum number of plants. You will be evaluating each variety on a handful of key characteristics, including yield, flavor, earliness, appearance, and disease resistance. Learn more on the SSE ADAPT Website.
Updated 6/7/2022