Hooray! The SeedLinked Community Feed (aka 'Feed) is now live on our web platform and mobile apps (Apple Store and Google Play). We invite you to log in and make a post today! This brand new SeedLinked feature is a culmination of years of work to help connect the dots between the Seed Explorer and Track tab on our platform.
On the Community Feed you can:
Since the creation of the SeedLinked platform, we have envisioned adding the Feed to create a space for open discussion among gardeners and farmers to ask questions, share updates, make recommendations, and post photos. To begin with, each collaborative trial that you are part of on SeedLinked will have a feed where you can interact and learn from other trial participants. We invite you to be part of the conversation!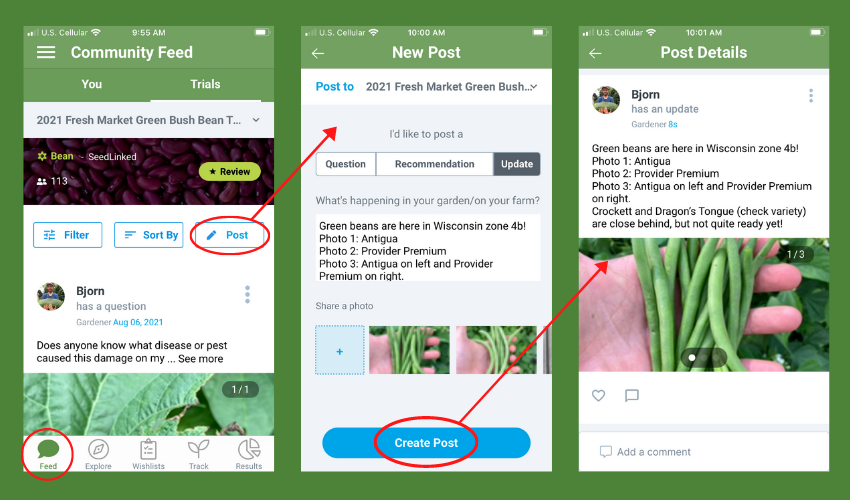 Want a video tutorial of how to get started with the Community Feed before you dive in? We have you covered! Check out the walkthrough tutorial below.
Thanks for learning all about the SeedLinked Feed! We encourage you to log in, make a post, share photos, and like/comment on other people's posts. When you participate in the feed, you are helping build community on SeedLinked!
With any new feature, we always expect a few issues here and there. If you find an issue with the Feed, please share it with us at feedback@seedlinked.com We would love to hear from you!
Happy posting and growing!
Published 8/13/21
For every collaborative trial and planting you review on SeedLinked, we ask you to add four distinct types of dates: planting date, transplant date (if applicable), first harvest date, and last harvest date. You may find yourself saying, "That is a lot of dates! Why are there so many? And why are adding them to trials and plantings useful?"
What are days to maturity?
Before we dive into the why, let us start with one important definition related to dates that is oh so important to growers – days to maturity or days to harvest – which are used interchangeably. If you pick up any seed catalog or seed packet, you are going to see one of these in the growing description/notes for a variety.
Days to Maturity (DTM) is the amount of time from planting a seed or transplant in the soil until the time its foliage or fruit is ready to harvest for eating.
For direct-seeded crops (E.g., beans, corn, lettuce, carrots, beets) it is from the time they are direct seeded into the soil until the first harvest. For crops that are typically transplanted (E.g., onions, kale, cabbage, broccoli, peppers, tomatoes, etc.), DTM is from the moment they are transplanted until the first harvest. That being said, some seed companies will specify on a seed packet if DTM is listed "from transplant" or "from seeding," and may have text that says "subtract 'X' weeks from DTM if transplanting."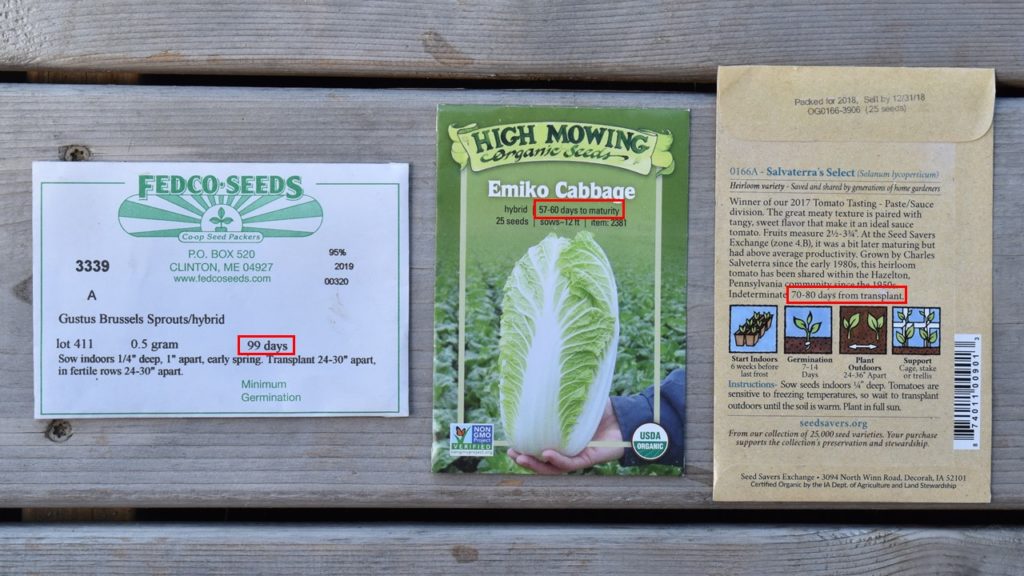 Days to maturity are extremely helpful for growers. It helps serve as a guide for if a variety will mature in your growing zone. For example, if John has a garden in northern Minnesota (Zone 3b) and has a short growing season, DTM can tell him which tomato varieties are early maturing enough to grow and which ones will not reach maturity before his first frost.
Additionally, DTM can help growers with succession planting and spacing out the harvest. For example, Ellen wants to space out cabbage harvest for her farm but wants to plant all the cabbages at the same time. She picks three varieties to plant that have DTMs of 60, 80, and 100 days to space out the harvest.
Other Days to Maturity Considerations
There are two other important considerations related to days to maturity that are good to take into account – your latitude and when you plant. Let's dive into the first one – your latitude. If you are further north in North America, you experience less daylight in the spring and fall and more daylight in the summer. Alternatively, if you grow in the southern part of North America, you experience more consistent amounts of daylight over the season and have especially less daylight in the summer compared to more northerly latitudes. The differing amount of daylight at various latitudes has an impact on DTM for crops that are more sensitive to light (the scientific term for this is photoperiod sensitive).
Now, let's discuss the second factor – when you plant. If you plant early for a spring crop or later in the season for a fall/winter crop, oftentimes you must add days to the DTM because accumulated warmth (the scientific term is growing degree days or GDD) happens at a slower rate at those times of the year.
At SeedLinked, we aim to increase transparency around days to maturity and hone them in for growers in different growing zones and regions for each variety. This is why we ask folks submitting collaborative trial reviews to include up to four different dates.
Why should I add dates to my trial or planting?
Any date you add to a collaborative trial or planting helps build data for varieties on the SeedLinked Seed Marketplace and helps other growers (and seed companies) find the variety with the most accurate and correct days to maturity for their growing conditions.
Here are some more examples of how recording dates for your collaborative trials and plantings can help inform growers in the future when they use the Seed Marketplace:

*Planting/transplanting dates help other growers determine the optimum planting date by region for a given variety.
* First and last harvest dates inform growers on which variety is best for each season (E.g., optimum summer lettuce, spring carrots, or summer broccoli).
* First and last harvest dates help determine harvest length for a given variety. Some varieties have a short harvest window (E.g., melons) while others have a much longer harvest window (E.g., kale).
* Filter a search in our Seed Marketplace by days to maturity (see below). This can help you find a variety that is better adapted to your location.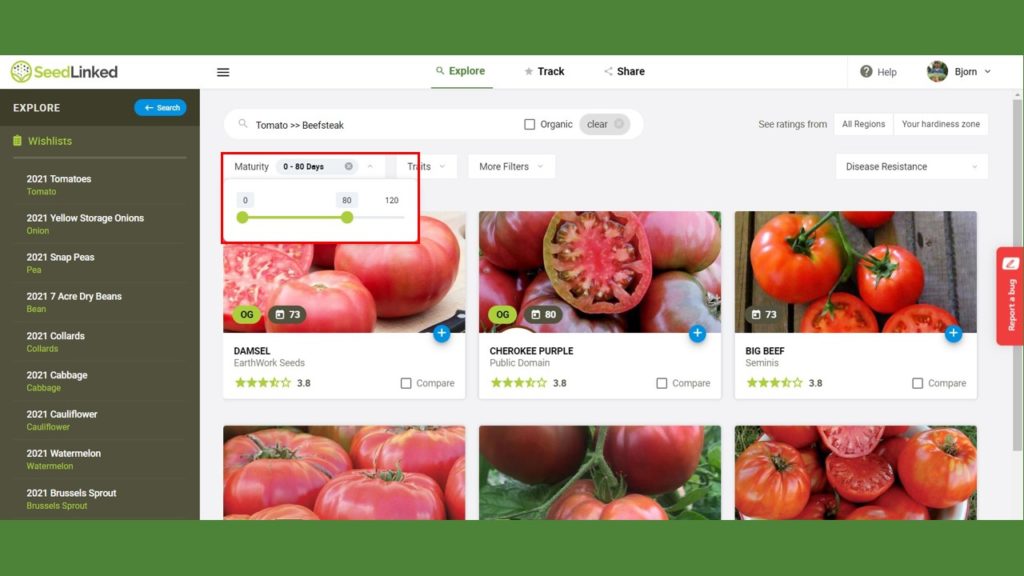 How to Add Dates to a Collaborative Trial or Planting
Okay, now that you are sold on why to enter dates for your trials and plantings, we bet you are wondering how to add them. Lucky for you, we read your mind!
Check out this quick tutorial that covers how to add dates to any trial or planting on the SeedLinked web platform and app.
Tutorial: How to Add Dates to a Trial or Planting (Web/App)
Thanks, in advance for reviewing (and adding dates) collaborative trials and plantings on SeedLinked. We appreciate and value your participation.
If you have any questions about adding dates to trials or plantings, please reach out to us at help@seedlinked.com
Happy growing!
Published 7/7/21
Have you ever wanted to add your favorite variety to a trial you're part of? You are in luck! You can now add a check variety to any collaborative trial or planting you are involved in on SeedLinked.
Adding a check variety is a helpful tool that allows SeedLinked participants to rate their tried-and-true varieties for a crop side-by-side with the varieties in any trial or planting. For example, if you are part of a lettuce trial, you can include your favorite lettuce as a check variety that serves as a benchmark for what is good disease resistance, appearance, flavor, and yield for lettuce. At the end of the growing season, you'll be able to see the trial results for the lettuces alongside your check, which can help guide you on what variety to purchase and grow in the future.

Beyond that, adding check varieties to your trials and plantings increases the number of reviews on SeedLinked, which then powers our Seed Marketplace to help other gardeners and farmers learn from your experiences and find the best varieties for their growing conditions.  
So, how do I add a check to a trial or planting? Check out this tutorial that takes you through the process on the SeedLinked web-based platform and app.  
Tutorial: How to Add a Check Variety to a Trial or Planting
Additionally, if the check variety that you want to add to a trial or planting isn't in the SeedLinked database you can now request to add them with our easy to use Google Form. Learn how to add varieties to SeedLinked with this tutorial. 
Tutorial: How to Add a Variety to the SeedLinked Database
If you have any questions about adding check varieties to trials or plantings, please reach out to us at help@seedlinked.com
Happy growing!
Did you know that you can review what you grow in your garden or on your farm on SeedLinked? 
In fact, when you review what you are growing on SeedLinked, you are helping other gardeners and farmers find the right seed for their growing conditions. Every rating you add on our platform powers our Seed Explorer and helps others learn from your experience and expertise.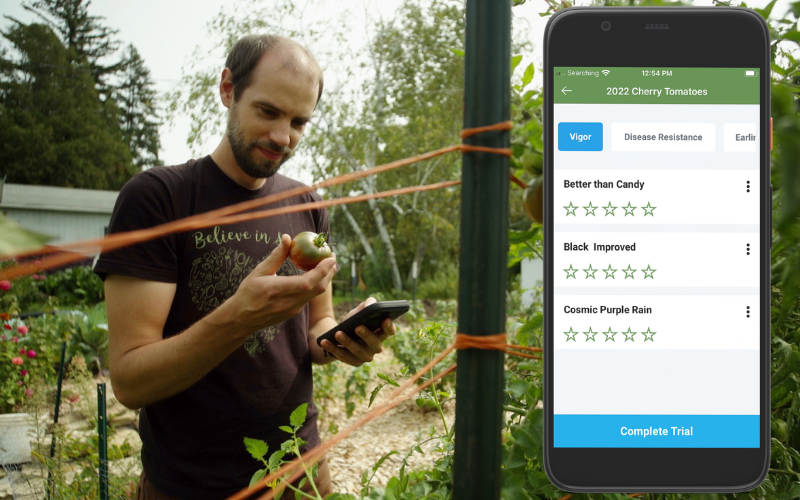 How do you review what you grow on SeedLinked?
So, how do you review your garden/farm on SeedLinked? Check out the series of YouTube tutorials below that take you through the three-step process of searching for seeds, making wishlists, making plantings, and reviewing what you are growing.
Tutorial: How to Use the Seed Explorer, Compare Varieties, and Create a Wishlist
Tutorial: How to Make a Planting from a Wishlist
Tutorial: Reviewing Your Planting/Trial
If you have any questions about reviewing what you grow on SeedLinked, please reach out to us at help@seedlinked.com
Happy growing!
The SeedLinked Team
The next time you open the SeedLinked app you might be surprised. After lots of input from you all, we've completely revamped the trialing experience for mobile users. Now, you can now more easily find and do what you need to do when you need to do it!

The new app features you'll encounter include a completely re-vamped trialing experience, direct trait comparison variety views, the ability to review your own garden or farm-grown varieties, as well as options to add a 'check' or reference variety with your reviewed varieties. We're excited for the ways the 'check' variety will help you easily sort out your "tried and trues" from your "might be cool" variety choices. Do be sure to give it a try this season.
Download the new app and take a look around. If you only have a minute or two, check out the video walkthrough below! Even better, navigate directly to a specific feature you're interested in learning about by clicking on the linked timestamp references below the video.
Have ideas for how we can make our apps even better? Share your ideas with us at feedback@seedlinked.com.
Don't forget to download the SeedLinked App for your mobile device today!